COST Action IC1004 "Cooperative Radio Communications for Green Smart Environments"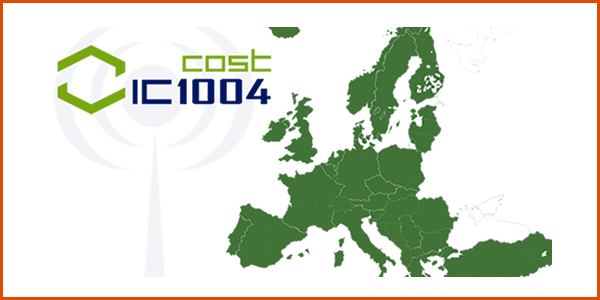 Źródło finansowania projektu:
COST Action IC1004 "Cooperative Radio Communications for Green Smart Environments"
Polish
Akcja COST IC1004 jest projektem europejskim należącym do domeny ICT. Jej tematem jest kooperacja w inteligentnych sieciach bezprzewodowych z naciskiem na aspekty wydajności, bezpieczeństwa, oszczędzania energii i zasobów sieci.
Główne cele Akcji to:
- poszerzanie wiedzy na temat inteligentnych, wydajnych sieci bezprzewodowych poprzez tworzenie nowych metod, modeli, technik i narzędzi,
- wzmacnianie współpracy między środowiskiem akademickim i przemysłowym,
- prowadzenie szkoleń dla młodych badaczy i naukowców z dziedziny inteligentnych sieci bezprzewodowych.
Akcja IC1004 jest prowadzona przez komitet zarządzający utworzony przez dwóch naukowców lub przedstawicieli przemysłu z każdego kraju uczestniczącego w projekcie. W IC1004 bierze udział ponad 100 instytucji badawczych, naukowych i przemysłowych. Poniżej wymienione są niektóre z nich.
Partners:
Vienna University of Technology
Communications Research Centre
Karlsruher Institut fur Technologie
Technische Universität Braunschweig
Consorzio Nazionale Interuniversitario per le Telecomunicazioni / Università di Bologna
Instituto Superior Tecnico - Technical University of Lisbon
Centre Tecnològic de Telecomunicacions de Catalunya
Universitat Politècnica de Catalunya
Universidad Carlos III de Madrid
Universitat Politecnica de Valencia
Universidad Politecnica de Cartagena
Contact person:
konsultacje:
po wcześniejszym uzgodnieniu mailowym
Informacje dodatkowe:
Dr Paweł Kułakowski obronił doktorat dotyczący systemów wieloantenowych MIMO na AGH w roku 2007. Po doktoracie ponad dwa lata pracował na uniwersytetach Technical University of Cartagena, University of Girona i University of Castilla La Mancha w Hiszpanii. Obecnie jest zatrudniony na stanowisku adiunkta w Katedrze Telekomunikacji AGH. Jego zainteresowania naukowe dotyczą nano-sieci komunikacyjnych, sieci 5G i IoT, sieci samo-organizujących się oraz algorytmów lokalizacji bezprzewodowej. W latach 2011-15 współprzewodniczył europejskiej grupie naukowej zajmującej się komunikacją bezprzewodową w środowisku indoor w projekcie COST Action IC1004 on Cooperative Radio Communications for Green Smart Environments. Obecnie jest w komitecie zarządzającym kolejnego projektu typu COST: IRACON Inclusive Radio Communication Networks for 5G and beyond. W roku 2008 otrzymał grant MNiSW "Wsparcie międzynarodowej mobilności naukowców". W roku 2010 był głównym organizatorem warsztatów naukowych dotyczących sieci sensorowych w Kanadzie. W roku 2014 uzyskał stypendium MNiSW dla młodych wybitnych naukowców. Jest laureatem dwóch nagród za najlepsze publikacje konferencyjne. Pełni również funkcję edytora wykonawczego w czasopiśmie Transactions on Emerging Telecommunications Technologies.
Additional information:
Pawel Kulakowski received a Ph.D. degree in telecommunications from the AGH University of Science and Technology, Krakow, in 2007. Currently he is working there as an assistant professor. He also worked for a few years in Spain, as a visiting professor at Technical University of Cartagena, University of Girona, University of Castilla-La Mancha, and University of Seville. He coauthored more than 30 scientific papers, in journals, conferences, and as technical reports. He was also involved in numerous research projects, especially European COST Actions: COST2100, IC1004, and CA15104 IRACON, focusing on wireless sensor networks, indoor localization, and wireless communications in general. His current research interests include molecular communications and nano-networks. Dr. Kulakowski was recognized with several scientific distinctions, including 3 awards for his conference papers, a scholarship for scientific mobility and a scholarship for young outstanding researchers. He is an executive editor in Transactions on Emerging Telecommunications Technologies.