Venue
Conference Location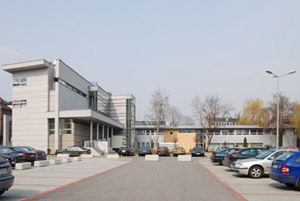 AGH, Department of Telecommunications, buildings D-6 and D-5, view from the South.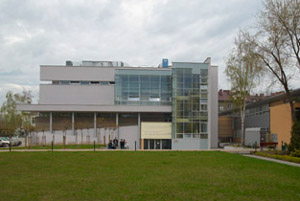 Building D-6, view from the East.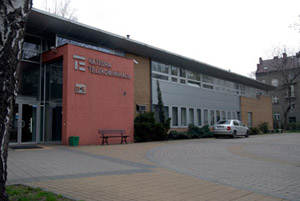 Building D-5, the North elevation.
The conference takes place at the Department of Telecommunications of the AGH University of Science and Technology and will be held in the Auditorium Maximum (pavilon D-6, room 201, level 0). The Department of Telecommunications is located in buildings D-6 and D-5 on the AGH campus, ul. Czarnowiejska 78, which is about 1 km west of the Kraków city center.

It can be easily accessed by public transport (using tram 13, start from the "Main Station", direction: "Bronowice Małe", and then switching at "Plac Inwalidów" stop to bus 159, direction: "Cichy Kacik", get off at "Kawiory" bus stop) or taxi (appr. 5 EUR) from Hotel Campanile or on foot from Hostel Antica. An hour ticket is 3.1 PLN, appr. 1 EUR)

The building D-5 can be accessed from ul. Czarnowiejska. Both buildings (D-5 and D-6) are also accessible from the car park located in the south of them. The car park is accessible form ul. Reymonta through ul. Miechowska or ul. Akademicka. (consult the map at the bottom of this page).

The map of the Krakow centre (with the places related to the conference marked) as well as the schematic map of the sourranding of the Conference Centre are provided below. Both maps can be enlarged by clicking them.

Travel Information
Kraków is situated in the southern part of Poland, 320 km south of Warsaw, the capital of Poland.
You can reach Krakow by air. Krakow Airport (Balice) has frequent connections with a large number of European cities, including also low cost airlines. You may use the bus from the airport to the city center of Kraków (appr. 40-45 minutes trip, single trip ticket is 2.5 PLN, appr. 0.75 EUR) or take a taxi (appr. 70 PLN, 25 EUR). All taxis are safe. We do not recommend to take the train from the airport to the city center as it is unreliable.
As an alternative, you may fly to Warsaw (Okęcie Airport) and take a train to Krakow. You can access the train directly by bus from the airport and there is a comfortable train connection with Krakow (three hours trip every hour, appr. 200 PLN, 65 EUR). A similar option is possible with Katowice (Pyrzowice Airport).


---